Important information
Organiser
Achensee Tourism
Contact: +43 5 95300-0 or info@achenseelauf.at 
Dates
Saturday, 4th September 2021:
16.30: Achensee Children's Run (0.4 – 2.5km)
17.30: 10km Salming Fitness Run
Followed by prize-giving ceremonies
Sunday, 5th September 2021:
10.00: Achenseelauf (23.2km)
10.00: Achensee Relay Race for 2 runners (14 + 9.2km)
Prize-giving ceremonies in the afternoon.
Achenseelauf 23.2km
F/M Junioren:         2002 and younger
F/M Main Group:   1992 – 2001
F/M 30:                  1987 – 1991
F/M 35:                  1982 – 1986
F/M 40:                  1977 – 1981
F/M 45:                  1972 – 1976
F/M 50:                  1967 – 1971
F/M 55:                  1962 – 1966
F/M 60:                  1957 – 1961
F/M 65:                  1952 – 1956
F/M 70:                  1951 and older
Achensee Relay Race 14 + 9.2km
M up to 85 years in total
up to 75 years in total
Mixed up to 80 years in total
M from 86 years in total
W from 76 years in total
Mixed from 81 years in total
10km Salming Fitnesslauf 
F/M youth:            2004 – 2005
F/M juniors:          2002 – 2003
F/M Main Class:   1992 – 2001
F/M 30:                 1982 – 1991
F/M 40:                 1972 – 1981
F/M 50:                 1962 – 1971
F/M 60:                 1952 – 1961
F/M 70:                 1951 and older
Achensee Children's Run 0.4 – 2.5km
W/M Youngsters:            2013 and younger approx. 0.4km
W/M Children I:               2011 – 2012 approx. 0.8km
W/M Children II:              2009 – 2010 approx. 1.6km
W/M School Children I:   2007 – 2008 approx. 2.5km
W/M School Children II:  2005 – 2006 approx. 2.5km
Declaration of liability (minimum age requirements)
Runners under 16 and 18 years of age require written permission from a parent/guardian. All runners aged 18 and over are free to participate in the event without written permission.

If you wish to give permission for your child to take part in the Achensee Fitness Run (10km), the Achenseelauf or the Achensee Relay Race, please print out the following form, complete it and send it to the organising team.
For those wishing to register on the day, please print it out, complete it and bring it with you to the registration desk
The organiser assumes no responsibility for the accuracy of the data provided.

Further information
Timing system
The timing system runs by Raceresult and the "Chip" is integrated in the starting number.
Final provisions
The run is organised according to the current regulations of the Austrian Athletics Federation. It has been approved by and is registered with the Federation. Runners are not permitted to leave the marked course and will be disqualified if they do so. The event will take place in all weather conditions. Start times may be subject to small adjustments.
Disqualification
Fairness is one of the most important aspects of the Achenseelauf. All runners who behave in an unsporting manner (taking short-cuts, disregarding official instructions, leaving the marked course) will be disqualified without exception by the race organisers. Runners who do not reach the refreshment station in Achenkirch by 12.00 will not receive an official time and will not appear in the official finsher list. They will also not be able to use services such as the refreshment stations. They are entitled to continue the run, however they do so at their own rish. No power-walking poles are allowed.
Course records
Women: 01:27:44 Andrea Mayr (Austria) 2013
Men: 01:15:05 Elisha Sawe (Kenya) 2005
Refreshment stations
| | | | |
| --- | --- | --- | --- |
| 1st station | km 6 | Station Buchau | Water & isotonic |
| 2nd station | km 10 | Station Schwarzenau | Water, isotonic, fruit |
| 3rd station | km 14 | Relay hand-over area | Water, tea, Red Bull, fruit, cake |
| 4th station | km 16 | Station Seewinkel | Water, isotonic, Red Bull, fruit, bars |
| 5th station | km 18 | Station Gaisalm | Water, isotonic, Red Bull, fruit |
| 6th station | km 21 | Station Bergwerk | Water, isotonic, Red Bull |
| 7th station | km 23,2 | Finish | Water, isotonic, tea, fruit, ham rolls, cheese rolls, cake |
For more information check out our interactive map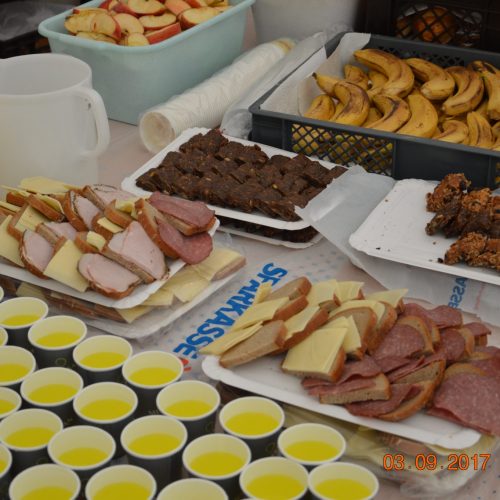 Help finding accommodation