10km Fitness Run
powered by gloryfy unbreakable eyewear
Already on Saturday at 17.00 the 10km Fitness Run powered by gloryfy unbreakable eyewear will take place. The 10km Fitness Run is ideal for amateur runners who don't want to complete the 23.2km Achensee Run.
Categories & age groups
F/M Main class 1995 to 2008
F/M 30 1985 to 1994
F/M 40 1975 to 1984
F/M 50 1965 to 1974
F/M 60 1955 to 1964
F/M 70 1954 and older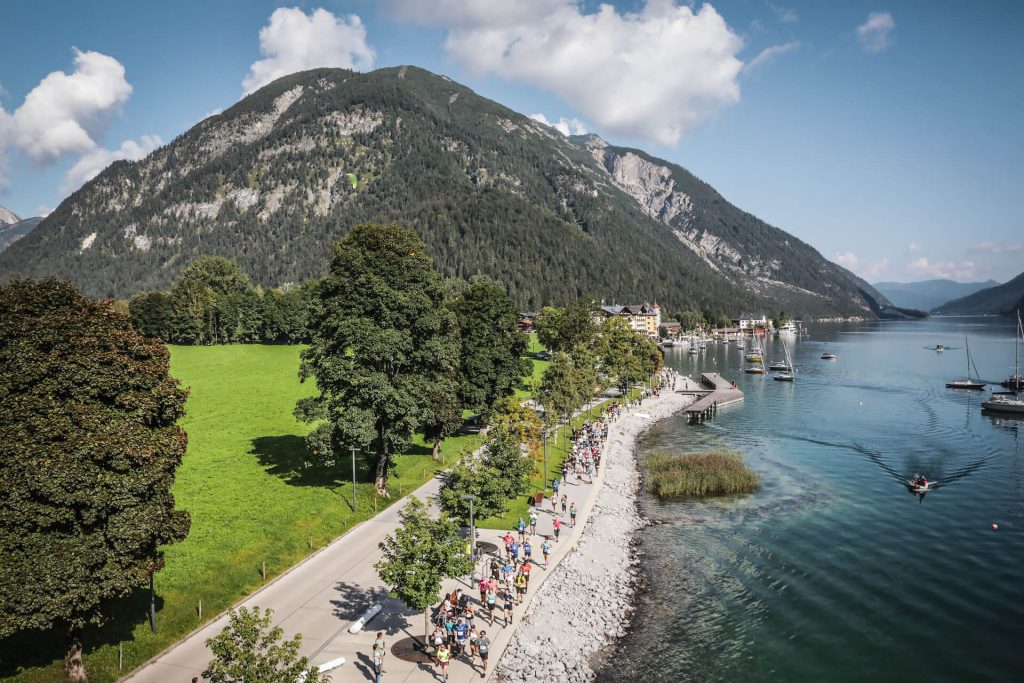 Course
Starting from the lake, the course leads to the Karwendel cable car, into the Dristenautal valley, then to the toll station before it makes a short loop and goes back to the village to the start/finish line.
Refreshment stations
Station Dristenautal | Water, herbal and elderberry syrup
Further information
Distribution of bib numbers and late entrants' registration
After 6 September 2024, registration is only possible against a late registration fee on site at the Fischergut (start/finish line of the Achensee Run) in Pertisau at the racing bib distribution point on Saturday, 7 September 2024 from 14.00 to 16.30.
There is no limit to the number of participants!
Timing system
The timing system is run by Raceresult and the "chip" is integrated in the bib number.
Final provisions
The run is organised according to the current regulations of the Austrian Athletics Federation. It has been approved by and is registered with the Federation. Runners are not permitted to leave the marked course and will be disqualified if they do so. The event will take place in all weather conditions. Start times may be subject to small adjustments.
Disqualification
Fairness is one of the most important aspects of the Achensee Run. All runners who do not display the proper sportsmanship (taking shortcuts, not following official instructions, leaving the marked course) will be disqualified without exception by the race organisers. Runners who do not reach the refreshment station (at 2.5 km) by 18.00 will not receive an official time and will not appear in the official finisher list. They will also not be able to use services such as the refreshment stations. They are entitled to continue the run, however they do so at their own risk. No power-walking poles are allowed.
Find accommodations
Achensee Tourism Board
Achenseestr. 63 – 6212 Maurach am Achensee
Tel.: +43 5 95300-0
info@achensee.com
www.achensee.com